Ford v Ferrari Blu-ray and DVD release date set for Tuesday February 11, 2020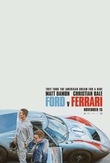 Henry Ford II and Lee Iacocca give automotive designer and driver Carroll Shelby a mission: They tell him to create a new type of Ford car that can win the 1966 24 Hours of Le Mans race. Shelby is told that the project is like going to war because they're trying to best Ferrari on the race track.
Shelby and a team of U.S. designers and engineers, joined by British race car driver Ken Miles, have 90 days to create this automotive miracle that they have named the Ford GT40.
Even if they accomplish the seemingly impossible task of making a car that can go at speeds higher than any Ferrari, they still have to beat Ferrari's best driver to win the race.



Source link
This site uses affiliate links and if you click on one and make a purchase we may receive a commission payment.